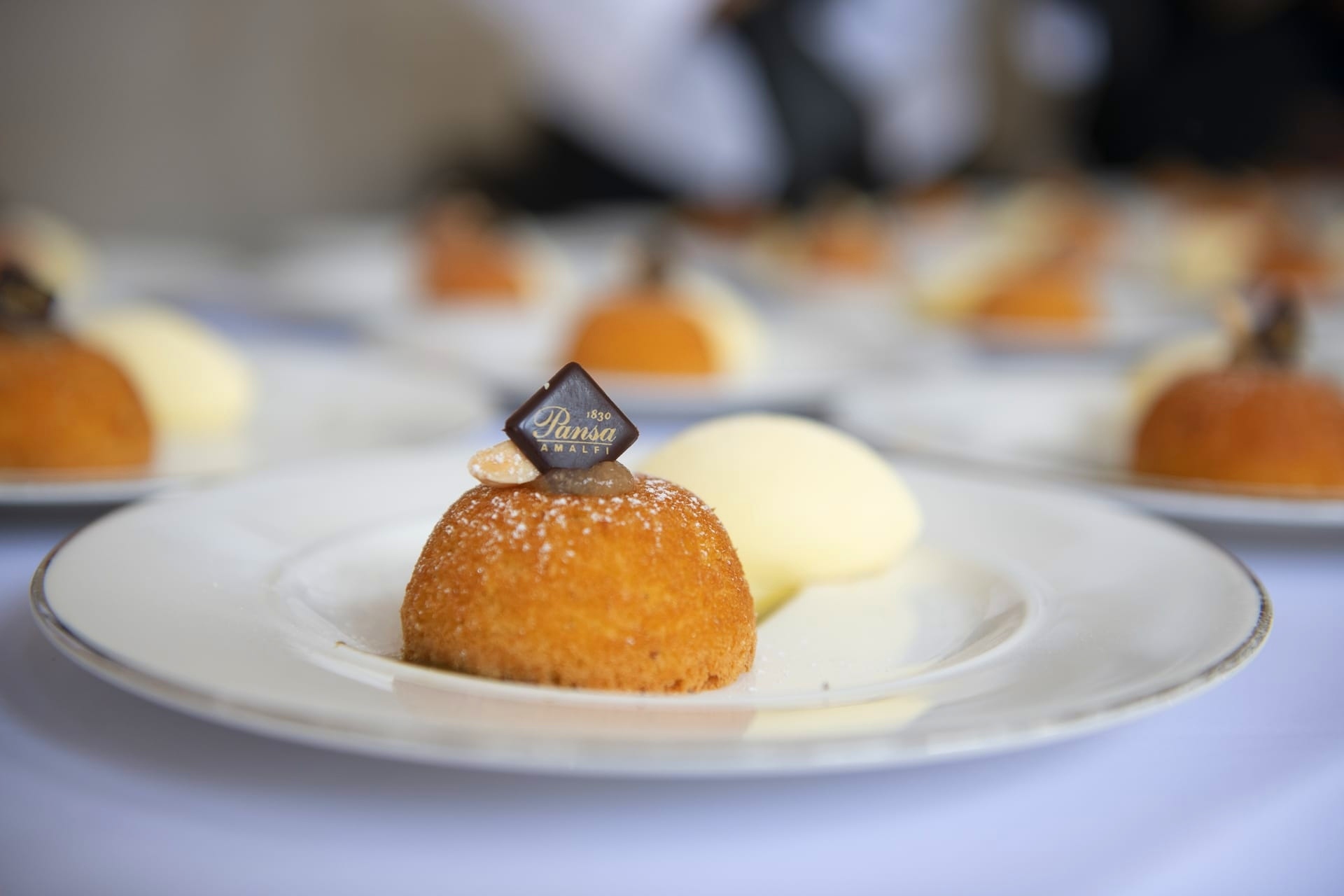 Confectionery creations like Zagara Divina are, however, much more than a simple story. They are a tribute to those who have made monuments out of words, destining them to eternity. Salvatore Quasimodo, to whom our new confectionery creation is dedicated, is a pillar of the culture of the Amalfi Coast. Here he wrote Verso L'eden (Towards Eden) and here we wanted to revive him with a delicacy to be tasted by tourists from all over the world. Divine Zagara is a cake with Avola almonds and the scent of Villa Paradiso lemons, served on a plate, with a quenelle of Nonna Adriana's ice cream - a cream cooked on a very slow fire as it was done in the past - perfumed with Amalfi lemon peels and vanilla bean, and a brush stroke of Bronte pistachio sauce.
It's a dessert to savor spoon after spoon, in a poetic emphasis that refers to deep and nostalgic thoughts, as only the works of Quasimodo can tell.
For this reason, in this great tribute we wanted to go beyond the laboratories of our pastry shop. We gave faces, smiles, looks to the images that rise to our minds through the eternal verses of the poet. And we did it by enthusiastically taking part in the project "Eden Ritrovato" of the director Biancamaria Savo, in which Alessandro Quasimodo, son of the Nobel Prize winner, was the protagonist.
Pasticceria Pansa was transformed into a set in which a magical day in the summer of 1966 was staged, in which we imagined the poet finding inspiration for his famous poem in the Dolce Vita of the Divine, among the faces and sweet delicacies of our pastry shop.
An audiovisual work, in which our sweetest imaginings linked to art and joy found realization, magnificently expressed by the actors and the director, whom we can never stop thanking for the experience we had together in this hot summer of Amalfitan departure.